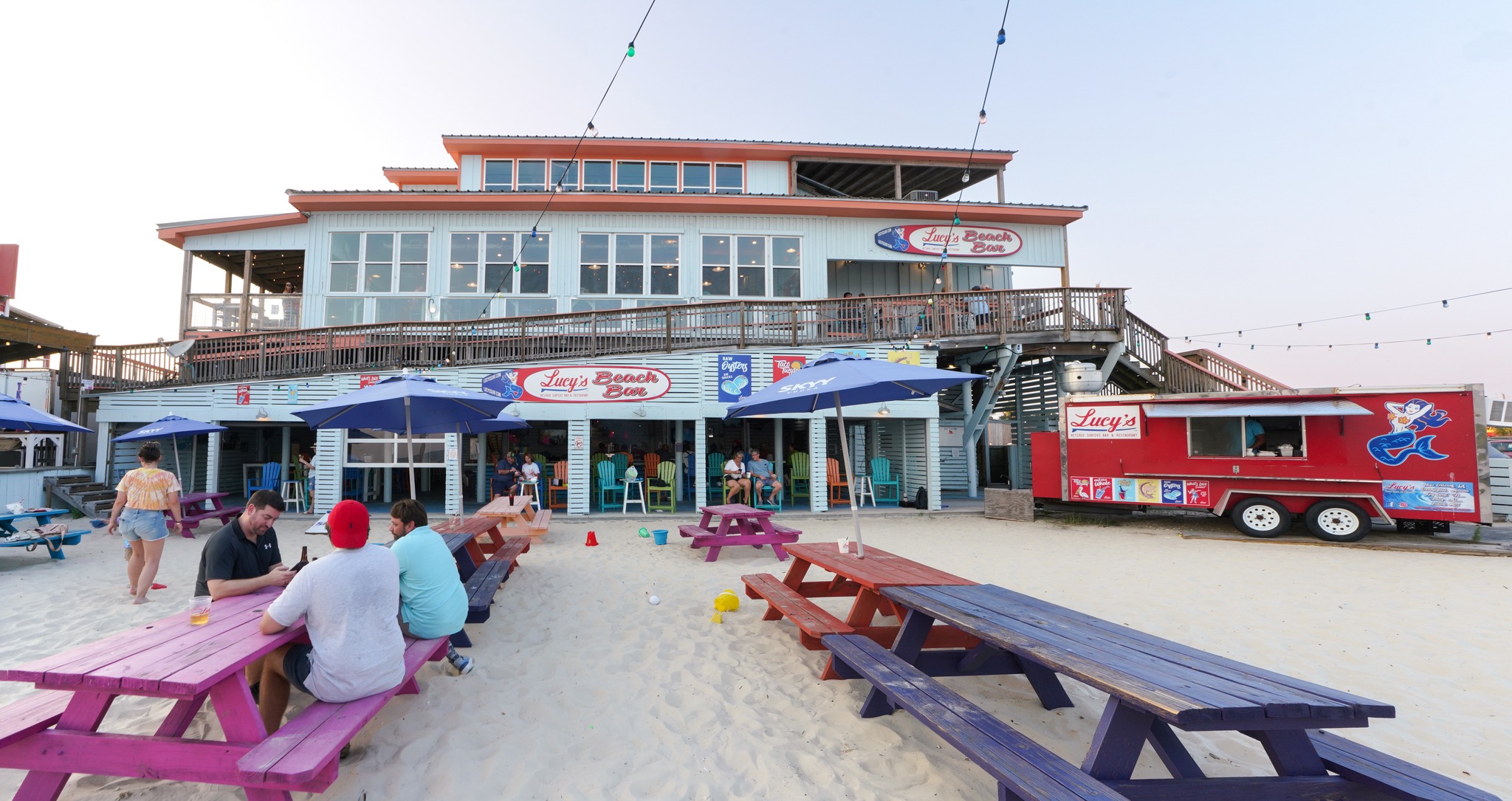 where surf meets turf
Gameday fun is always a shore thing at Lucy's and we're kicking Saturdays + Sundays up a notch this football season! Click here for our gameday specials!
Hours of Operation
Monday – Thursday | 11am – 8pm
Friday + Saturday | 11am – 9pm
Sunday | 11am – 6pm
Daily | 3pm – 6pm
Saturday + Sunday | 11am – 2pm
Monday – Thursday | 3pm – 'til
Saturday + Sunday | 12pm – 'til
Hang Ten on Biloxi Beach
Lucy's Biloxi is a retired surfer's paradise! Located just steps from the Gulf of Mexico, Lucy's has one of the largest outdoor, sand-filled bar areas just off the boardwalk and is a quick drive from the Mississippi Coast Coliseum and Vegas-style casinos.
Our laid-back family friendly bar & restaurant embodies the easy attitude of retired surfers around the world! Locals and tourists alike kick back, relax, and put their feet in Biloxi's beautiful white sand beach direct from our indoor/outdoor Beach Bar. Pull up a chair and enjoy live music, the big game, and weekend brunch on the coast!
Our elevated dining room offers unobstructed Gulf views and overlooks the sandy shore of Biloxi Beach. Our menus feature coastal-inspired signature bites, in hearty portions, to meet your appetite for flavor. Belly up to our full-service bar for killer cocktails (ask about the "Shark Attack!"), classic margaritas, and house specialties.
Want to ride the party wave? We have you covered! Lucy's features a large, third story event venue, The Lighthouse, that offers an ideal location and space for any special event or private dining occasion.
Reservations are recommended for groups of 6+, otherwise all tables are first come first serve. To make a reservation for a group of 6 or more, please call (228) 207-4369 during business hours or email biloxi@lucyssurf.com.